With the now drastic turn in weather (goodbye high 70's) and gloomy wet forecast for the weekend its starting to finally feel like November. Hurrah! So I thought I'd compile a little list of things that's making me excited for the holidays and finally feeling like this time of year should be.
The great tree in Union Square is on its way up - towering over the annual ice skating rink that takes over a large part of Union Square. And the Macy's windows are already lit up with their wreaths, too!
Another great addition to Macy's (jeez I sound like a Macy's ad!) are the SFSPCA Holiday windows. In need of a new furry companion? Look no further - from November 19 (that's today!) through January 2nd walk yourself down and check out the cute puppies and kittens available for adoption through a partnership with the San Francisco SPCA and Macy's. Not in the mood for a friend but would like to help out anyway? Volunteers are still being accepted. And who wouldn't want to play with a new furry friend for a few hours while helping to raise money for them?
Also, if you haven't seen anyone walking around lately, the holiday cups are back at Starbucks. Even your overpriced mocha latte espresso is dressed up in holiday spirit! And.. just these upcoming few days - Nov 18-21 from 2-5PM all
Starbucks holiday drinks
are buy one get one free. Just in case you needed a little extra push for your favorite drink you can feel good by getting one for a friend... (or keeping it for yourself for later, hah).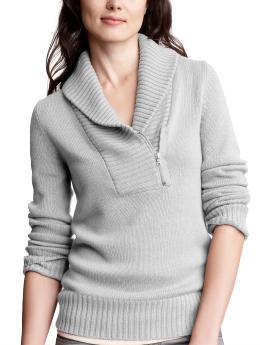 Chunky sweaters. Finally - weather to support layers! I'm actually really digging this one from the Gap. I love the cowl neck and the zipper detail. Want it? Get it at the
Gap
for 54.50. And with 5 colors to choose from, I really have no idea which one I would get (I'm pretty indesisive most of the time...).
And you can't have a rainy season without rainboots! I'm beyond thrilled that with the storm slated to slam into San Francisco later this evening that I'll finally get a chance to pull out my adorable new pair of red rainboots with beige socks. SO.EXCITED. I don't think I could possibly put it into words. But now - my feet will stay dry, warm, and look (hopefully) good while I get to frolic in the rain.
And you thought that was just for kids, didn't you.
Have a fantastic Friday!